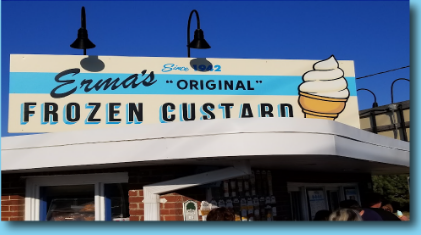 CELEBRATING 75 YEARS AND COUNTING!
Date Published: 04/3/23 3:57 PM
FOR OVER 75 YEARS, ERMA'S ORIGINAL FROZEN CUSTARD HAS BEEN BRINGING FAMILY AND FRIENDS TOGETHER TO CREATE TO CREATE SWEET SUMMER MEMORIES.

ERMA'S ORIGINAL FROZEN CUSTARD IS A SMALL ROADSIDE STAND JUST OUTSIDE OF DOWNTOWN UTICA IN 1942. WORD TRAVELED FAST ABOUT THE DELICIOUS VANILLA FROZEN CUSTARD, AND THE STORY OF GOOD TIMES AT ERMA'S BEGAN TO TAKE ROOT IN THE COMMUNITY. AS A LANDMARK ON AUBURN ROAD. EMRA'S WAS THE FIRST BUSINESS IN SHELBY TOWNSHIP TO HISTORICAL LANDMARK STATUS (2010) FROM THE TOWNSHIP AS THEIR OLDEST OPERATING BUSINESS.